Introducing Logopädie Herne
We welcome you to our website and are pleased to introduce our speech therapy practice in the Herne-Mitte district.
The practice in Lichtburg has been in existence for many years and has been under the direction of Clara Fischer since January 2021.
Dorothea Riberger continues to support our team and offers the Heidelberg Parent Training for Early Language Development as needed.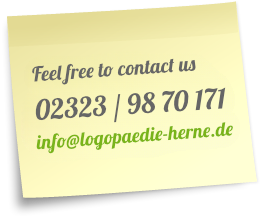 Our competent team is committed to ensuring that:
Advice and support for parents in promoting children's language in everyday life,
Collaboration with doctors, kindergartens, schools, and other institutions, and
Networking with occupational therapists, remedial educators, physiotherapists, and other therapeutic professions, together and in an atmosphere of trust for the benefit of our young and adult patients.
Learn about our services, get to know our team of state-recognized speech therapists, and schedule an appointment. We offer speech therapy treatments in German, Turkish, English, and Italian in the heart of Herne. Our speech therapy practice is barrier-free.
Current notice regarding COVID-19
As healthcare providers, we are among the medical professions. Please note that masks are still mandatory in our practice.